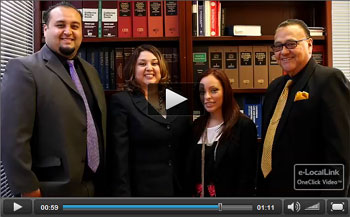 The Law Offices of George B. Pacheco & Associates has been serving the Montebello and Los Angeles County for over 31 years. Founder and Lead Attorney, George B. Pacheco, has become one of the area's most respected attorneys handling matters in a broad range of areas of practice. Along with his daughter, Associate Attorney Gia L Pacheco, and highly skilled staff, George B. Pacheco brings extensive experience and expertise to the profession.
Experience is everything when it comes to handling claims, litigation and trial. Attorney George B. Pacheco has acquired over 31 years of litigation experience in a broad range of areas of law. Our attorneys and staff have produced favorable results in thousands of cases, and always strives to offer the most professional service possible.  As a family-run business, we strive to build lasting relationships with our clients. Each staff member makes it a priority to keep in contact with our clients and keep you as informed as possible.
The Law Offices of George B. Pacheco & Associates offers its clients cost-effective solutions combined with well-recognized legal expertise, skill, and accomplishment. Representing companies and individuals alike, George has experience with knowing judicial trends to knowing the precise content of the many legal code sections and case holdings.  The law is so complex that most are unfamiliar with its meaning. Our attorneys have developed and learned the best methods of communicating the law in "plain terms", and always ensure our clients understand the progress of their legal matter.
We encourage you to call "The Team you can Trust" for a consultation today.
Se Habla Español.